Rational Blog: Thoughts on Golf and the World
The patented BioMatch system takes the guessing game out of matching a set of clubs by weight and weight distribution and explains it using scientific methodology. The BioMatch system brings club fitting into the 21st century. It makes Golf an easier game to play.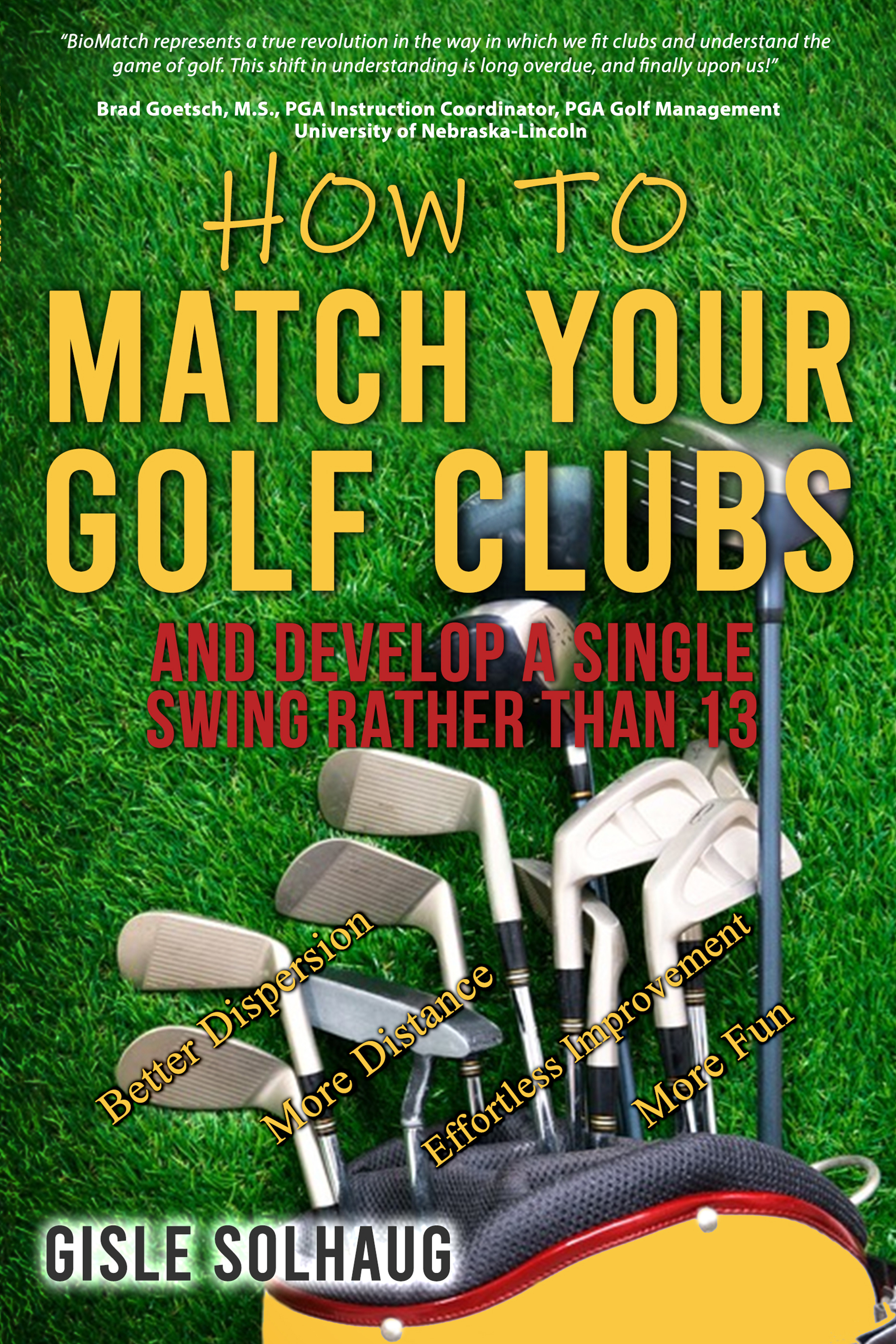 This is the first ever scientific solution to the problem of matching golf clubs. Matching of golf clubs is regarded as the Holy Grail of Golf since the beginning of golf. The system is available online and through a worldwide network of clubfitters. These clubfitters are helping golfers of all abilities worldwide to improve their game effortlessly. As you will groove the same consistent swing for all your club, dispersion improves dramatically.
The book is published on Amazon.com on May 29, 2021. The eBook is prized at $7.00, the printed full color version is priced at $19.99. https://www.amazon.com/dp/1737272806?ref_=pe_3052080_397514860
Some Early Reviews
Brad Goetsch, M.S., PGA Instruction Coordinator, PGA Golf Management, University of Nebraska-Lincoln
BioMatch represents a true revolution in the way in which we fit clubs and understand the game of golf. This shift in understanding is long overdue, and finally upon us!
Brad Goetsch
Bryan Van Der Riet, Golf Coach
What an amazing book. This is a book and concept that every golfer of all skill levels can benefit from. Thanks again for allowing me to be a little part of it.
Bryan Van Der Riet
Jeff Summitt, Technical Director, Hireko Golf
Gisle's patented system takes the guessing game out of matching a set of clubs by weight and weight distribution and explains it using scientific methodology. The BioMatch system brings club fitting into the 21st century so you play better by thinking less on the course.
Jeff Summitt
Bernie McGuire, Golf Reporter on the European, PGA, Asian and Australasian Tours
In golf, no matter if you're Tiger Woods or just a weekend golfer, we all know no two shots are the same. You can ace one hole and drive it OB at the next. And while the ancient club-and-ball game has progressed enormously in terms of equipment and technology, neglected in this new 'smart' age is the humble marriage between the golfer and his or her clubs.
"How To Match Your Golf Club" is not a golfing counselor, but it does explain in the simplest of terms how you can strengthen golf's most important relationship by using simple physics so you can apply the same smooth swing on all your clubs.
Bernie McGuire
Andrew Oliphant, PGA Coach and Leadbetter Certified Instructor
The author's knowledge of science and golf equipment is masterful. Being a BioMatch user myself, I know it works. I recommend this book to any golfer prepared to think outside the box!
Andrew Oliphant
Casey Martin, Head Golf Coach, University of Oregon Men's Team
Before I met Gisle and Gregory, I had never heard of club matching. It is a fascinating concept that may be the future of club fitting. I think Gisle is ahead of the game.
Casey Martin
Tom Spargo, AGCP Master Clubfitter, GCA International Top 10 Clubmaker
Gisle's passion for the game has provided us with this wonderful book. More importantly, it is providing Professional Clubfitters the ultimate tool for an unparalleled Clubfitting experience.
Tom Spargo
Charles C. Rich, Internationally Accredited Master Fitter
Gisle deserves credit for developing a system, scientifically proven, to help golfers develop a more reliable swing. He has proven that you cannot fight science and physics. A scientific way of matching golf clubs is long overdue.
Many club fitters and golf "gurus" have tried to counterbalance clubs but did not have the knowledge or ability to develop the BioMatch system. We all tried by trial and error. This was not successful because there were just too many factors to take into account. I am a professional club fitter with years of experience and have custom-fitted more than 10,000 sets.
I want to end by pointing out that the legendary Jack Nicklaus played with lead tape fitted under his grips.
Charles C. Rich
John J. Glozek, Jr., Publisher, Golfing Magazine
This is a book every golfer and club fitter should be reading. The phrase "game changer" is often over used but not here. The information in "How to Match Your Golf Clubs" is a game changer.
John J. Glozek, Jr.
Steve Low, Master Club Builder, Owner of Designer Golf UK
We have been in business for over 35 years and thought the traditional method of swing weighting clubs was the holy grail of golf. That was until we discovered BioMatch. I have asked every manufacturer that we represent the scientific reason for swing weighting clubs to either D0 or D2 for every golfer on the planet, and not one can give me a technical answer! Gisle Solhaug with BioMatch has the only scientifically proven system for matching golf clubs. Having applied BioMatch to over 600 golfers and seen first-hand golfers reducing their handicap, we can honestly say that BioMatch is the best innovation in the golf industry we have seen in the last 35 years of being club makers!
Steve Low